The staggering number of school shootings* in the United States is on the rise, and so are the victims, which in recent years have mostly been children. More disturbingly, the majority of school shootings have been carried out by teenagers. The average age of the attacker in school shootings is fifteen. In most states under current U.S. law, an eighteen-year-old can purchase a military-style gun before he can legally buy a beer. Real guns, it seems, are just as easy for kids to get their hands on than toy guns.
America's Teddy Bear is an installation consisting of hundreds of orange-colored suction bullets attached to a large clear surface, creating the shape of a human-size teddy-bear. The number of bullets corresponds to the number of victims of school shootings in the U.S. since the Columbine High School massacre in 1999.
The installation is created during a poignant and powerful opening performance where bullets are fired into the teddy-bear's silhouette using a military-style modeled toy gun. The shooting is accompanied and amplified by a school'slockdown audio playing in the background. The names and ages of victims that have lost their lives during a school shooting are labeled and hand-placed during the second segment of the performance. At this moment, the lockdown audio is replaced by smooth live music as a show of respect to the victims.
On take down, people are invited to help remove bullets from the teddy-bear and encouraged to take a labeled bullet as a remembrance.
THE PROCESS – STEP BY STEP
Silhouette of the teddy-bear
A few days before opening night, the teddy-bear's silhouette is marked with foam bullets on the window/glass surface.
Labeling the bullets
The names of victims – and ages when available – are written on new bullets for every new version of America's Teddy Bear.
First part of the performance
Bullets are fired into the teddy-bear's silhouette using a military-style modeled toy gun. 
Photo and video from performance at Der Mixer Galerie, Frankfurt, Germany, 2019.
Active Shooter Lockdown Audio
Listen to what it sounds like to be hiding during a school shooting: "Attention please. Lockdown. Locks, lights, out of sight." This automated announcement was recorded by fifteen-year-old Lillian Duarte while hiding in her classroom.**
Placing victim's bullets
The second part of the performance consists of the individual placement of labeled bullets.
A moment of reflexion
While doing this, the lockdown audio is replaced by live music as show of respect to victims.
A Natural Course

The foam bullets are suction-based and have no glue to help keep them attached to the glass. With time, some of them fall down and the exposure to sun washes the ink out. This is an intended effect, as this represents how lost lives can also sadly fade out in real life.
Taking down America's Teddy Bear
An open invitation to the public to help take down America's Teddy Bear. Here, visitors at Isola Galerie help remove bullets and are encouraged to take a labeled one home as a way to remember the name and find out more about the victim's life.
This project is envisioned for multiple sites, a new teddy-bear for each location. Whether on a large window with prominent view, or within a movable glass, the installation and components are simple and flexible.
Finding a Home for America's Teddy Bear
I am continually looking for a venue for America's Teddy Bear. It can be a gallery, an office building lobby or front store with a prominent window, preferably at street level. If you have a lead or suggestion please drop me a line.
Thank you!
WHAT IS THE DESIRED IMPACT FOR THIS PROJECT?
Reexamine the idea of a safe childhood: what was it like to grow up going to school without fear, without even imagining the concept of hiding in a closet seeking safety.
School shootings have also become a social phenomenon. America's Teddy Bear's key purpose is to create awareness and fight this growing trend and recast it as the outlier it should be.
It is pressing not only because of the reoccurrence of these shootings, but because of the psychological impact to children and teenagers attending school, who are growing up getting more used to school drills than to school field trips or playgrounds.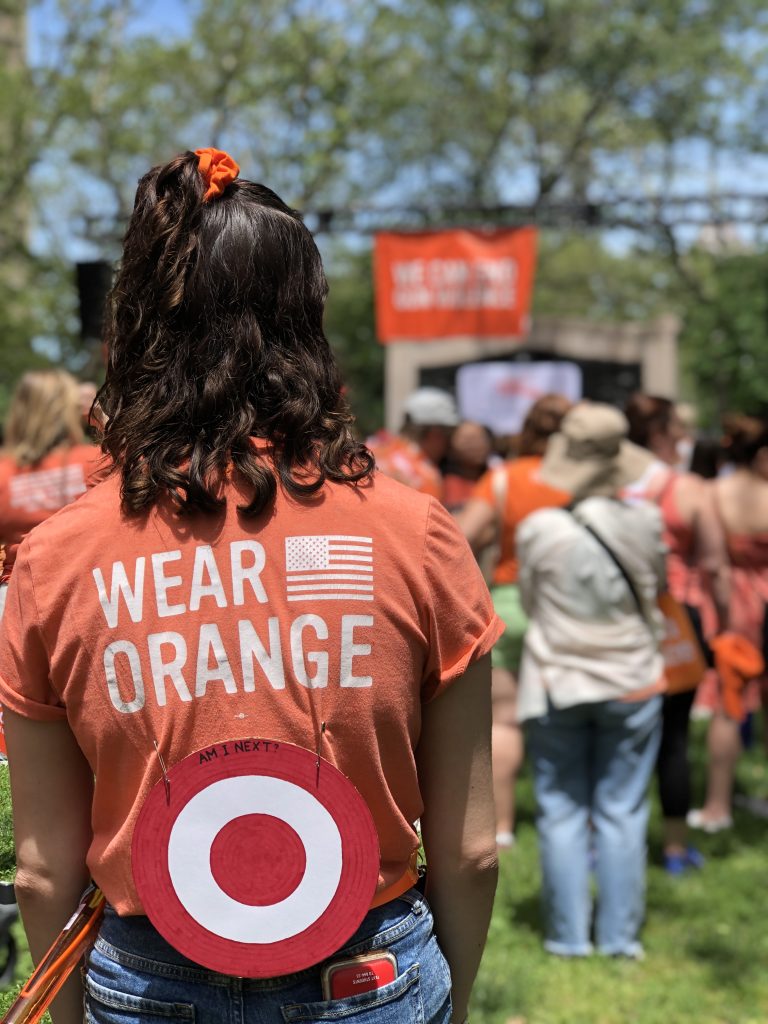 Teenage survivors are leading admirable campaigns to fight for gun control and sensible regulations. I aim to remind adults about the school environments most of us grew up in, and the urgent need to revert to that normalcy.
America's Teddy Bear aims to spark a personal connection with childhood and prompt a fundamental desire to keep schools, and children, safe.
VIDEO AND PHOTO GALLERIES
Opening Performance at Der Mixer Galerie in Frankfurt, Germany, June 2019
Photo gallery from Isola Galerie exhibition, opening and closing performances. Frankfurt, June – August 2018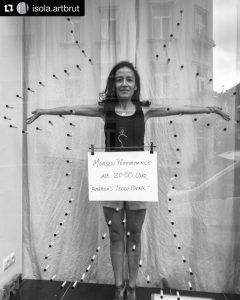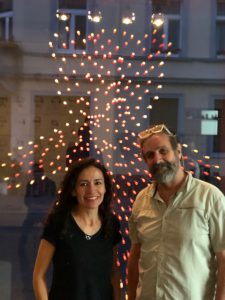 *A school shooting is defined by the non-for-profit organization Gun Violence Archive as an attack happening on the property of an elementary school, secondary school or college campus within school hours and extracurricular activities.
**Source https://www.buzzfeednews.com/article/tasneemnashrulla/colorado-stem-highlands-school-shooting-texts-video-lockdown.